Edna's Gourmet Coffee
The process of brewing our coffee is a complex yet simple ritual of its own. @ednascoffee is best when prepared using a cezve as shown in this image but can also be prepared many other ways. The brew slowly rises as it boils and creates a beautiful froth at the top for a milky yet chocolaty taste.⠀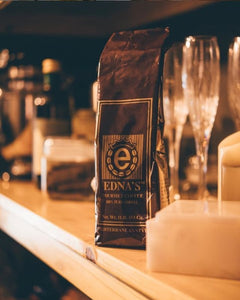 The Original
Edna's delicious gourmet coffee is made to enhance your day, every day. Don't settle for anything else.
Our Decaffeinated Blend
Try something different today. Here is our 97% decaffeinated blend. The same great taste you'd expect but without the caffeine. It's that simple. 
Our 50/50 Pure Coffee
Don't let the day pass without a cup of 50/50. One of our fan favorites and a great choice for your first cup of Mediterranean style coffee. Our 50/50 offers this uniquely crafted medium and dark bean blend to create a sweet, yet balanced brew.
Traditional Mediterranean Gourment Coffee
Traditional Mediterranean Gourment Coffee